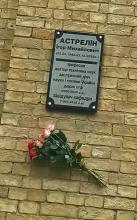 In honor of the Honored Worker of Science and Technology of Ukraine, Dean of the Faculty of Chemical Technology (2000-2020) Igor Astrelin's, on the facade of the building of the Faculty of Chemical Technology KPI. A memorial plaque was unveiled to Igor Sikorsky.
The grand opening took place on June 1, 2021 with the participation of KPI Rector Mykhailo Zgurovsky, colleagues, friends, relatives, followers, from whom many words of honor and good memories were heard.
Eternal honor and low bow. The good memory of Igor Astrelin's will forever remain in the hearts of his students, colleagues and relatives.