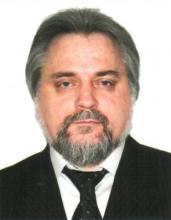 Kushmyruk Andrey Ivanovich




Ph.D., senior researcher
In 1988 he graduated from Kyiv Polytechnic Institute. He has been working at the Department of Technical Engineering since 1991. In 2005 he defended his dissertation for the degree of Candidate of Technical Sciences in the direction of 05.17.03 - Technical Electrochemistry, topic "Electrochemical sensors of renewable gases for air monitoring"

Lecture courses:
Modern problematic issues of technical electrochemistry.
Scientific work:
Development of sensor equipment for air monitoring;

Research of corrosion behavior of valve metals;

Development of electrochemical means for testing gas analytical equipment.
Сontacts:
тел.: + 38 044 204 9734
e-mail: a.kushmyruk@kpi.ua