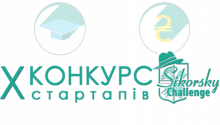 The festival will include:
- International Forum "Sikorsky Challenge as a model and driver of innovative high-tech development of Ukraine";
- Exhibition of startup projects, breakthrough scientific and technical developments, including the latest innovative developments in the defense industry;
- competition of innovative projects;
- signing of preliminary agreements on cooperation between investors, enterprises, authors of innovative projects and the Innovation Holding Sikorsky Challenge / Science Park "Kyiv Polytechnic".
Contest page: https://www.sikorskychallenge.com/startup-contest/
We invite you to participate in the competition of innovative projects in the following areas:
- biomedical engineering;
- hydrogen economy;
- clean energy;
- new materials and technologies;
- defense and security;
- aviation and space;
- robotics;
- ecology;
- agrotech.
The anniversary festival is planned to be held in a mixed form of face-to-face and synchronous online.
The project teams that will reach the finals of the competition will be able to present their projects to an international jury in a convenient way - in the format of "live" performances or in a synchronous online format.
The projects will be evaluated by an international jury consisting of industry representatives, investors and funds from Ukraine, the United States, China, Israel, Azerbaijan and Poland. Teams of startups that are of interest to investors will receive investments and grants for project development.
Registration for the contest at the link: https://www.sikorskychallenge.com/startup-contest/zaiavka/ Applications are accepted until June 15, 2021. Preparation of finalists for performances at the competition will take place from 15 to 20 June 2021.
Training sessions will be conducted by leading experts and mentors of the Innovation Ecosystem Sikorsky Challenge Ukraine. Receipt of materials from the teams of finalists (description, presentation, video presentation) - until July 15, 2021.
Organizing Committee of the X International Festival of Innovative Projects "Sikorsky Challenge 2021"